Overview: Evaluating the disputable pros and cons of a free-market healthcare system.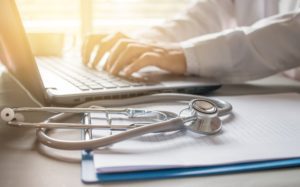 Americans have been debating health care for decades, and establishing a free market in healthcare in the U.S. has been part of the debate for decades. Characterized by opaque pricing, varying levels of quality, and inefficiencies that make getting care confusing for patients and providers alike, the U.S. health care system today isn't really a free market, but there are some pockets that operate more like one than others.
As health insurance providers, we understand firsthand the complexity of any insurance decision-making process. And whether you're a consumer or an employer, keeping up with all the changes (federal and state laws, insurance company plans change, and ongoing conversations about what will, what was, and what currently is) could be confusing.
What is free market health care and why the debate
Free market health care is a system where there is minimal or no government regulation. With this minimal regulation, health care providers are free to provide services without needing to satisfy strict regulatory standards and requirements. As a result, health care providers do not need to comply with restrictive government licensing.
The debate usually boils down to: Which path would improve access to care and lower costs — a more centrally-planned health care system or a more free-market approach? Today we'll be focusing on the pros and cons of the latter: a free-market approach to the healthcare system.
Related reading(s): Free Market Health Care; Does the U.S. have 'free market' health care?
Some

pros and cons of free-market healthcare
ARGUMENTS THAT SUPPORT FREE MARKET IN HEALTHCARE
Improved cost and quality of healthcare resulting from little to no government involvement

Flexibility to develop policies that accommodate numerous consumer preferences for healthcare financing and delivery
Improved Cost and Quality of Healthcare Resulting From Little to No Government Involvement
Some argue that to improve the cost and quality of healthcare, the government should get out of the way and let the free market reign. Thus, the biggest advantage of "free market health care" is the fact that it requires little or no government involvement.
Healthcare regulations at all levels of government can increase price, limit
choice, and stifle competition — which, in combination, lead U.S. healthcare to fail to provide its full value.
Flexibility to Develop Policies That Accommodate Numerous Consumer Preferences for Healthcare Financing and Delivery
A key goal for the healthcare marketplace is to provide effective, high-value care to all Americans. Recent health policy changes at the Federal and State levels have sought to give consumers more control over their medical expenditures so they can seek greater value for their health investment.
In Chapter 5 of the Economic Report of the President (2021), it's argued that free-market healthcare aims to foster healthcare markets that create value for consumers through the financing and delivery of high-quality and affordable care. Government mandates can reduce competitive insurance choices and raise premiums.
By focusing on choice and competition, States are encouraged to provide flexibility to develop policies that accommodate numerous consumer preferences for healthcare financing and delivery.
ARGUMENTS THAT OPPOSE FREE MARKET IN HEALTHCARE
Free-market healthcare is a concept, not a system; insurance is based upon risk pools, not competition

There is no evidence that giving consumers "skin in the game" prompts them to become more astute healthcare consumers
Free-market Healthcare as a Concept, Not a System; Insurance is Based Upon Risk Pools, Not Competition
According to one Family Law attorney, ""free market health care" is a concept, not a system." In theory, by increasing competition and making the environment "friendlier" to health insurers, the cost of health insurance will decrease. The main problem with the theory of free market health insurance is the fact the insurance is based upon risk pools, not competition.
For health insurers, premiums are determined by the probability of the members in the risk pool needing health care. For health insurance companies, cost savings come from managing or manipulating the risk pool. For example, by removing people with "pre-existing conditions," an insurer can create a healthier risk pool with fewer payouts and thereby lowering the premiums. Therefore, free market health care cannot even attempt to insure everyone.
The advantage of increasing the number of insurers in a given market is questioned by many as there are no practical examples of any significant decreases in premiums.
By comparison, it has been shown that when the health insurance industry is deregulated, the cost of insurance decreases. However, that decrease in cost comes at a price: more "loopholes" for insurers not to pay claims. It costs less because it is worth less.
Related reading(s): Many disadvantages of 'free market' health care
There is No Evidence That Giving Consumers "Skin in the Game" Prompts Them to Become More Astute Healthcare Consumers
Because of the structure of our healthcare system, consumers are, for the most part, unable to make informed decisions that in other markets can lead to increased competition for consumers' spending. There are many reasons for this, including information asymmetry, healthcare not viewed as a commodity and the need for third-party payers.
You can read more about this argument in the article, "Rethinking Consumerism in Healthcare Benefit Design."