Preparing for Spring Allergies

All winter long you may have been dreaming of this day. The day that the temperatures start to rise. The day that you get out of bed and don't feel the immediate chill. Maybe you have been waiting for the leaves to start filling up the trees and longing for your landscape to be lush and green? And where that is a beautiful sight to behold, for many Americans, it is the start of their Spring Allergies. Here are a few ways that you can prepare for your spring allergies.
See your Allergist ahead of Time
Don't wait until your allergies are driving you crazy before you go to the doctor. If you know your allergies are just waiting on the other side of spring, go to see your allergist. It can help you significantly to start using an allergy medicine that was helpful last season now.
Keep your Windows Closed
However tempting it may be to open up your windows and let the Fresh Spring Air into your Home, please do not! Helping your home remain allergen-free can help your system significantly. You can also replace filters in your home. If pollen is a significant issue, you can also change clothes once you come in from the outside. Pollen can catch a ride indoors on your outerwear. You can also shower before bed so that you are not bringing anything into your bed.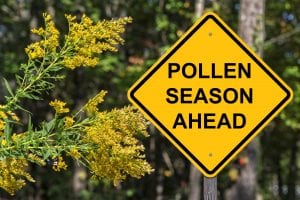 Flush Out your System
Studies have shown that using a neti pot, or a similar product, has helped people who suffer from allergies. The neti pot allows water to flush out the sinuses and removed unwanted allergens that may be causing your allergy grief.
Track the Pollen
Look to see if any of your local news agencies cover how much pollen is in the air. We understand that sometimes you have to go out, but if you can change your plans around high pollen numbers; it may help you significantly.
We hope that these few tips can help you as spring is coming. Please feel free to talk to us about any of your health care coverage as you look to keep your allergies in check.