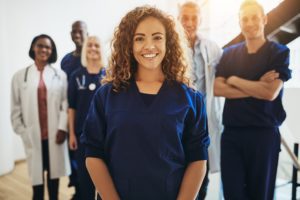 Penalty fees, hindered medical care, and steep medical fees are no fun, but these are the realities to expect if you don't have health insurance coverage in California or any other state where coverage is required.
While the number of uninsured Americans has dropped, many people still don't have any type of healthcare insurance coverage.
As of 2019, Americans without health insurance are not taxed by the government (federal).  However,  as of 2019, you may be required to pay a fee when you file your state taxes if you do not have health insurance. This is because certain states and jurisdictions have enacted their own health insurance mandates.
The following five states* require health insurance and present a penalty if you don't have it:
Massachusetts

New Jersey

Vermont

California

Rhode Island
*The District of Columbia (Washington D.C.) also falls into this category at the state level.
Related Reading(s): Investopedia: Don't Have Health Insurance? What's the Worst That Could Happen?
UPDATES TO HEALTH INSURANCE COVERAGE POLICIES
Prior to 2020, if you went without Affordable Care Act (ACA) compliant health insurance for more than two consecutive months, you would pay a penalty. This fine was called the Shared Responsibility Payment.
As we mentioned earlier, a small handful of states have since introduced state-level individual mandates to encourage residents to purchase health insurance and help moderate the cost of insurance purchased on the public exchange. The penalty for failure to obtain qualifying health coverage varies by state — but a penalty is involved if you remain uninsured.
The purpose of the penalty?
a. To encourage everyone to purchase health insurance if they weren't covered through their employment or a government-sponsored program.
b. To protect people from skipping out on health insurance.
c. To discourage not being able to pay off medical expenses in the event of injury or illness.
Related reading(s): eHealth: Does Your State Require You to Have Health Insurance?
CALIFORNIA INDIVIDUAL MANDATE
An individual mandate is a requirement by law for certain persons to purchase or otherwise obtain a good or service. For health insurance, this means:
Imposing a tax penalty on individuals who go without health insurance but can afford it
The prior tax penalty for not having health insurance in 2018 was $695 for adults and $347.50 for children or 2 percent of your yearly income, whichever amount is more.
Related Reading(s): iHealthAgents: What is the penalty for not having health insurance in 2021?
Currently, the annual penalty for Californians who go without health insurance is 2.5 percent of household income or at least $750 per adult and $375 per dependent under 18, whichever is greater. The dollar figures will rise yearly with inflation.
The penalty is capped at the state average premium for a bronze level plan on the California exchange for the applicable household size and does not apply if that premium exceeds 8.3 percent of household income.
You may be eligible for an exemption in a few situations, such as:
Religious conscience exemption: if you or someone in your family is part of a recognized religion that is against private insurance or believes exclusively in spiritual healing, you may qualify for a religious conscience exemption.

Hardship exemption: you experienced certain hardships that prevented you from getting health coverage, such as homelessness, eviction, natural disaster, domestic violence, bankruptcy, etc.

Affordability exemption: the tax penalty doesn't apply if the least expensive plan premium available to you would be greater than 8.27% of your household income in 2021.

Short coverage gap: you went without coverage for three consecutive months or less
Part of a federally recognized Native American tribe
AVOIDING THE INDIVIDUAL MANDATE TAX
To avoid this penalty and protect yourself from the potential financial burden of unexpected medical expenses, you can enroll in a health insurance plan during the open enrollment period.
If you lose your insurance in the middle of the year, you may qualify for a special enrollment period to purchase an ACA-compliant plan on the public exchange
Depending on which state you live in, you may also be able to enroll in short-term health insurance to help fill any coverage gaps you may experience throughout the year.
Catastrophic Plans: These plans will cover you in the event of an accident or illness. They have very low monthly premiums and provide a safety net should you need it. You can buy these plans through the Marketplace, directly from an insurer, or through an agent or broker.
Related reading(s): Health Grades: What Happens If You Don't Have Health Insurance?