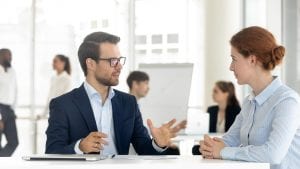 In efforts to maximize our health insurance services, Bernardini & Donovan partnered with ThinkHR last year to help our small business address HR and compliance challenges. You can read more about this initial partnership here.
We've enjoyed having a human resources partner to handle potential employee issues, risk management, and more, and even talk about our experience with monitoring compliance-related activities using ThinkHR here. However, changes were made in 2019 that we want to share with you — namely in our HR partner's collaboration with Mammoth to make Mineral™.
According to the Mineral website:
53% of small businesses spend more than 10 hours per week on HR and compliance issues
Compliance rules and regulations are always changing, so it's important that small businesses like ours have help to navigate the complex HR and compliance landscape. Mineral provides the resources, tools, experts and alerts that organizations need to thrive.
80% of Mineral™ clients do not have an HR certification
HR goes way beyond employee benefits, hiring and firing. Small businesses need to stay compliant with state and federal laws, maintain employee job descriptions, create up-to-date employee handbooks as well as make sure everyone is properly trained.
MINERAL: SIMPLIFYING

HR AND COMPLIANCE
Federal and state laws and regulations seem to change faster than you can keep up. Mineral offers real-time alerts, timely guidance, and tangible action items so small businesses never miss a key compliance date again.
With over 500,000 clients, 2,700 partners, and 195,000 HR and compliance issues resolves in just the last year, Mineral combines certified HR experts with tech-enabled tools to make HR compliance more feasible for businesses around the nation.
The innovative platform is a one-stop resource for small businesses, and it's filled with everything you need to tackle even the trickiest workplace issues with total confidence. While the name has changed, businesses can still count on Mineral for the same great HR and compliance solutions that hundreds of thousands of businesses have come to rely on.
Mineral™ is still focused on providing proactive solutions for businesses while helping them take the guesswork out of HR and compliance so they can experience peace of mind. But there's much more where that came from, so click the link below to learn more about the relaunch!
MINERAL'S RESOURCE CENTER: RECENT CHANGES & UPDATES
You can read more about each of Mineral's updates and additional updates on the Minerals resource center page here. But here are some important points we've selected from the resource page for easy viewing: 
COVID-19 WORKPLACE SAFETY POLICIES AND ACKNOWLEDGMENT
The COVID-19 pandemic has challenged and transformed the way small businesses operate. To help small businesses navigate the most common HR and compliance situations, Mineral has provided some essential COVID-19 resources for employers.
EMPLOYEE NOTICE—FACE COVERINGS
Note to employers: State and local laws and orders may provide different or additional requirements for employers regarding masks or face coverings, including guidance on whether employers must provide and pay for them, who must maintain and clean them, and more. Review applicable mandates to ensure compliance.
FURLOUGH RELATED RESOURCES
Notice of Furlough (COVID-19) — Use this letter to notify employees of a furlough due to COVID-19. Be sure to customize the template and remove the bracketed text.
Recall From Furlough – Revised Offer Letter (covid-19) — Use this template when recalling an employee from furlough due to COVID-19 and offering their job back. The letter contains a section to outline any changes between the new and old positions. Be sure to customize the letter by replacing the bracketed text.
Quick Start Guide: Deciding Who to Recall from Furlough or Layoff — Deciding which employees to return to the workplace following a furlough or temporary layoff, and in what order you'll call them back, will require an individualized analysis for each organization. For those who aren't sure where to start, we provide this as a starting point. 
NOTICE OF COMMUNICABLE ILLNESS IN THE WORKPLACE
Use this letter to inform employees of potential exposure to a communicable illness. The letter provides space for information about the illness as well as steps to take. Be sure to customize the letter by replacing the bracketed text.
IN SUMMARY: MAKE SURE YOUR SMALL BUSINESS IS COMPLIANT WITH HR POLICIES
Back in 2016, an HR Manager posted on LinkedIn about the importance of HR policies and procedures in the workplace.
"Human Resources Policies and Procedures are Important as they provide structure, control, consistency, fairness and reasonableness in [small and medium-sized enterprises]. They also ensure compliance with employment legislation and inform employees of their responsibilities and the Company's expectations."
As small businesses continue to find our balance after a long and exhausting year and a half, we remember that every business benefits from understanding the importance of workplace compliance. Because proper compliance doesn't just protect your employees… it protects you, too.