Overview: In order to be successful in the health insurance industry, pay attention to these 6 pieces of advice.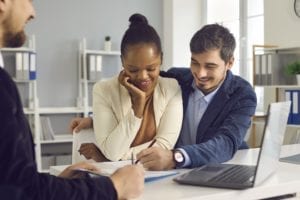 What makes a successful health insurance agent successful in the competitive zeitgeist of the 21st century? It's more than what you're saying or selling.
To be successful as a health insurance agent, you need to have strong sales, marketing, and customer service skills. You'll be required to locate and attract potential customers. You don't necessarily have to be born with these skills, but developing them is crucial to your success.
Essential tips for

success as a health insurance agent:
Prioritize Good Customer Service
This is a three-part tip. You need to 1) put the needs of the client before your own interests 2) be attentive and available to answer client questions or concerns and 3) have emotional intelligence. All of these tie into prioritizing good customer service. Here's why:
Putting a client into a product that pays a lower commission because it better fits their needs will likely help you retain customers.
Customers want to be able to get in contact with their agents. Timely responses to inquiries and phone calls is a must. You almost must be able to do what you say you will do, when you say you will do it, or at least have a good reason as to why you can't.
Listen and empathize with clients on a deeper level in order to discern what they really want and need. A good agent is tactful and knows how to help a client see financial reality clearly, even when the client is dead set against it.
Bonus: Do not prioritize earning a commission! You likely won't last long in the business. Agents who listen carefully to what their clients and prospects say will be able to earn their trust — which is the hardest part of their job.
Related article(s): 8 Qualities That Make a Good Insurance Agent
Focus On Good Salesmanship (Record/Listen To Yourself)
We all know that health insurance agents (like all types of insurance agents) are salespeople by nature. Sales is namely all about confidence first, knowledge second, and everything else after. One way to develop your sales skills is to record your voice on the phone while talking to some clients.
Do you sound smart?

Do you sound confident?

Do you sound like a little kid who picked up the phone?
You need to acquire strong sales skills and learn the process of acquiring, nurturing, and maintaining quality customers. This might require attending seminars or undergoing a professional training program in sales.
Related article(s): 21 Insurance Sales Tips For Young or Inexperienced Insurance Agents
Develop a Strong Work Ethic
The insurance industry is competitive and you may be working independently for a good portion of the day. You need to develop a strong work ethic to be proactive when seeking out new customers, closing sales, and developing relationships with clients and industry professionals. Prioritizing your time and maintaining a strong work ethic will get you far throughout your career.
Study the Market
You need a plan to target the right prospects and seek out new customers in the right markets. Take the time to study the market and develop a strategy so you are making the best use of your time. Whether you are out on a sales call or conducting a presentation to potential customers, you need a deep understanding of what your customers want and who is the market to buy insurance — ideally, from you.
Learn From the Pros
Every successful agent needs a mentor, coach, or someone to guide them throughout their career. Make the time to connect with someone who is currently working your dream position or someone who is willing to mentor you as you grow in your career. This will provide you with valuable insights about the industry, tips for overcoming challenges you are dealing with, and an opportunity to learn from someone who has been in your position at some point in his or her career.
Related article(s): How to Succeed as an Insurance Broker or Insurance Agent
Stay on Top of Market Trends
Because life insurance policies changes, it's essential that you stay on top of trends to achieve the success you want. As a result, you'll not only have a better chance of selling what the client needs but also what they believe they want. With a vast knowledge of life insurance and by remaining enthusiastic yet professional, you can carefully guide an individual toward the best coverage, whether trendy or not.
Related article(s): 5 Pro Tips – How to Be a Successful Insurance Agent in 2021