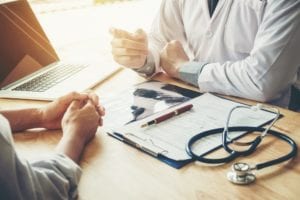 If you're looking to find a doctor that accepts Medicare near you, you're not alone. One of the most significant challenges for anyone seeking healthcare is finding a great doctor who is within the confinements of Medicare.
Some great resources exist that might help in this endeavor. If you're looking for quality advice for your particular health circumstances, Bernardini and Donovan can show you the tools to find the right doctor and the right insurance plan. We offer insurance services in the Inland Empire, including information on Medicare coverage in the Inland Empire.
Today, the B&D team will clarify the differences between Medicare and Medicaid. We'll also highlight some questions to consider as a precursor to finding the ideal Medicare doctors that suit your needs along with additional resources that might help.
Medicare is a program aimed to help adults over the age of 65 to receive Medicare Health Insurance. It also provides health insurance for disabled adults under 65 and anyone who has been diagnosed with End-Stage Renal Disease (permanent kidney failure). Medicare is a federal taxpayer-funded program run by the Centers for Medicare and Medicaid Services, a federal government agency, and generally remains the same across the US states.
Medicaid is an assistance program for low-income people of every age. With this program, patients typically do not pay any amount for their covered medical expenses. In some cases, a small copayment is required. This, unlike Medicare, is a federal-state program and varies across the US states as state and local governments run it within federal guidelines.
What Doctor Accepts Medicare
When you hear someone say a provider is a "Medicare doctor," or that doctor "accepts Medicare," that generally means that there's a Medicare-approved doctor available who can agree to accept Medicare Assignment. The doctor (or another provider) agrees to accept what Medicare pays for that service and won't charge you more than the standard Medicare deductible or coinsurance/copayment. The Medicare doctor also can't charge you for sending a claim to Medicare.
Many people have health and medical questions and might feel overwhelmed because these are complex topics. Sometimes, you might not even know what questions to ask. At Bernardini and Donovan, we specialize in health and medical insurance services.
If you have questions about Medicare coverage, or you want to know if there's a doctor who accepts Medicare near you, our team can help! Let's start by addressing a few things that can hopefully ease the process of finding suitable Medicare coverage near you.
Do All Doctors Accept Medicare
Before jumping into finding a suitable doctor, it's important to know the following information in advance:
Is the doctor "in-network"?
If you have Original Medicare, you can visit any doctor that accepts Medicare assignments. However, if you have Medicare Advantage (such as an HMO or PPO), you may be required to see in-network doctors in order to be covered.
Out-of-network or non-contracted clinicians are under no obligation to treat Medicare members, except in emergency situations. This means that Medicare coverage near you might be limited. You also may pay more for doctors who are out-of-network, or you might not be covered at all. Also, the costs that you experience for out-of-network doctors may not count towards your out-of-pocket maximum.
Do you have medical conditions you need the doctor to be familiar with?
If you have a rare or life-threatening condition, you may want a doctor who is familiar with it. For example, if you think you may need hospice care in the near future, a doctor with training in hospice care might be a good fit for you.
What plan do you have/How much are you willing to spend?
This is a matter of what you want vs. what you have or can afford. Do you have basic Medicare, Medicare Supplement together with basic Medicare, or a Medicare Advantage plan?
If you don't know what all of these options mean to you, our Medicare page can help explain these options in more detail.
Finding Suitable Medicare Coverage
Your satisfaction with Medicare may depend upon finding a plan that will help you access convenient and capable doctors. Many of you will also hope to choose coverage that will allow you to keep the primary care doctor that you may already know and trust. Below are some brief rundowns of what each plan consists of.
When a primary care doctor accepts Medicare Assignment, that means he or she agrees to bill Medicare-approved amounts for various healthcare services. You can keep your costs as low as possible by seeking out a primary care doctor who accepts Medicare Assignment. Medicare offers a handy search tool that you can use to find nearby doctors who agree to accept Medicare Assignment and bill Medicare for their share of the bill.
If you'd rather not have to limit your choice of doctors to those who will agree to charge only what Medicare allows, you can consider buying Medicare Plan F or Plan G to supplement Original Medicare. These two supplements will typically cover excess charges, or bills in excess of Medicare's limits. This benefit can help broaden your choice of caregivers. It doesn't just apply to first-line primary care doctors but also to specialists. Still have questions regarding different Medicare plans? Our health and medical insurance services in the Inland Empire are designed to help Inland Empire residents clarify health and medical questions so you're not in this alone.
Finding A Medicare Doctor Near You
Like most people, you probably want to find a likable, qualified, and conveniently-located doctor. This doctor might be the one you see most often, so the best strategy for finding your doctor will depend upon the kind of Medicare insurance you have. We've already touched base on the different Medicare plans available, so make sure to take that into consideration, as that might affect your choices.
If you are enrolled in a Medicare Advantage plan, your plan will also provide a directory of Medicare doctors in its provider network, if applicable. If you aren't sure, call your Medicare doctor's office and ask whether your plan is accepted before you make an appointment.
If you have Original Medicare, you don't need to use doctors in a plan network. You can see any doctor you choose. But you can typically save money if you find a Medicare doctor who accepts Medicare payment terms (assignment). You may want to ask the doctor before you make an appointment.
Finding a suitable Medicare doctor is as simple as asking for referrals from friends, relatives, coworkers, and/or neighbors. You can also check with your insurance plan, medical societies, hospitals, and accreditation organizations. Just keep in mind that these resources cannot ensure that a particular doctor is the best one for you, but they do provide information on a doctor's knowledge and skills.
Medicare Coverage in the Inland Empir
You might still find yourself having questions or concerns regarding your healthcare needs. Understanding Medicare and how to get the best care possible can pose a significant challenge. That's why we at Bernardini and Donovan strive to help you understand the process, answer your questions, and help you find medicare doctors in your area!
At Bernardini & Donovan, we provide health and medical insurance services in the Inland Empire, so residents in or around the area who have questions can reach out to us for more information!
Don't hesitate to contact us. There is no additional cost to you, so make sure to utilize our resource of expertise!