One of the most interesting health issues to resurface this year has been the Measles. Which is interesting because, in the year 2000, the United States was able to declare that the Measles had been eliminated. However, in these last six months, we have seen 1077 cases. A number that is still growing. The last time we saw these kinds of numbers was in 1992. Here is what you need to know about these recent outbreaks: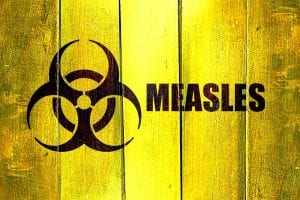 1. Over 26 states have reported a Measles breakout
These states include: Arizona, California, Colorado, Connecticut, Florida, Georgia, Illinois, Indiana, Iowa, Kentucky, Maine, Maryland, Massachusetts, Michigan, Missouri, New Mexico, Nevada, New Hampshire, New Jersey, New York, Oklahoma, Oregon, Pennsylvania, Texas, Tennessee, and Washington.
2. Small Community Centered
Most of the reported breakouts include a small number of people affected; only a couple at a time. But the most significant reported amounts are in an Orthodox Jewish Community in New York City, specifically in Rockland County. This group has been vaccine skeptic, and the measles virus has spread wildly. So much so that the mayor of New York City, Bill de Blasio, declared a public health emergency on April 9th. He said that anyone who has not been vaccinated within a specific zip code must get the vaccine. If they refused, they would be fined $1,000.
3. It's an aggressive virus.
You may have the virus and not show any symptoms. A person can have it up to four days before they ever show signs, and they can easily infect another person during that time if a person who has contracted the measles were to walk into a room, cough and then leave. Hours later, an unvaccinated person could get the virus from the droplets in the air from the infected person. No other virus can do that.
4. It's making its way into the US from tourists
Many of the outbreaks that stemmed from people that have traveled to countries where measles still is a significant problem. Outbreaks in California have originated from strains of measles found in Vietnam or Thailand. New York's epidemic seems to come from Jerusalem. If you are traveling to another country this summer, the CDC recommends that you are up on your vaccines so that you do not contract this aggressive virus.
If more people are vaccinated, it creates what is called the herd effect. It helps the people who cannot get vaccines like small children or people or autoimmune diseases from getting the disease. If you need to check up on your vaccines, make sure to call your doctor. If you have already been vaccinated for measles, most people do not need a have the vaccine again, but if you got it before 1967, you might. Your doctor will be able to help you determine what you need as far as vaccines go.